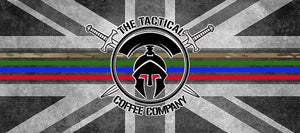 Tactical Coffee
We have been featured in The Military Times, Pathfinder Magazine and on Army Rumour Service (ARRSE)
We are proud winners of Theo Paphitis Small Business Sunday and Highly Commended by The Chamber of Commerce for Outstanding Support to the Armed Forces.
All our coffees are traceable, Rainforest Alliance and Fair-trade certified.
Testimonials
ED Macy MC - Ugly 51 Apache Pilot.
I bought Ugly Five Zero for the novelty factor and to support Tactical Coffee but as a coffee aficionado I was Blown Away (excuse the pun) Ugly Five Zero is a great tasting Coffee.
Trevor Coult MC - First into Sangin.
Tactical Coffee is the best tasting Veteran Owned Coffee on the market and I've probably tasted them all.